Interview by Erwin Van Dijk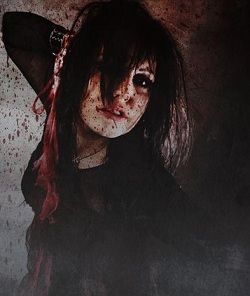 An interview with Cathrine from Trail of Tears. Cathrine Paulsen is the female singer of Trail of Tears. She did the female vocals on the "A New Dimension of Might" album from 2002 but did not appear on "Free Fall into Fear" from 2005. It was a big surprise when she did return to the band in 2007 after most of the Trail of Tears members had decided to quit the band.
The first question: Did you always wanted to become a singer?
Yes, I started to sing when I was 7-8 years old, and I knew from the very beginning that I had potential to develop my voice. I spend 4-6 hours each day singing and dancing in my room for several years, and I was very hard and strict with myself. I didn't eat dinner or went to sleep if I wasn't satisfy with my practise for the day. Then I had to practise until my goal was completed.
Did you follow singing lessons and what do you do to keep your voice in top condition?
No, I never took lessons beside a few once at school. Most of it I learned myself after hours and hours of practise. Beside of that I smoke cigarettes and drink whisky to keep the pro-condition hahaha. Usually I warm up my voice before a concert, and practise before going on tour.. but I practise less these days than in my younger years. Now it just comes naturally and I am happy to see that my hard work have payed of.
According to the biography of the band your are the soprano singer. Is that the only style of singing you do?
Well, there is a small misunderstanding about the soprano vocals. You see, soprano is not a style, but it is often linked to the opera and classic way of singing. I know many people believe that if you're soprano it means you're high in vocal range. The thing is that soprano tell something about the sound of your voice. If you have a clear light and bright sound you will be a soprano. If you have a darker sound you will be an alto voice. I have learned to switch between these sounds, so I can choose to have a darker or brighter voice. I will end up using the sound I feel express the music most. But I guess you meant to ask if I only do opera or classical style?? What I do on "Bloodstained Endurance" is neither of these styles, so the answer is no, it is not the only style I do, but I did a lot more of the classical style in "A New Dimension of Might". To be a bit full of myself…I have practise enough to sing most styles in any way there is.
To what kind of music do you listen yourself and what are your favourite bands and songs?
It depends on my mood, but it will usually be some kind of metal. Sometimes I just like to listen to the radio with all kinds of pop/rock/blues music, but I never found pleasure in jazz. My favourite bands/songs are Emperor - "Inno a satana", Strapping Young Lad - "Underneath the waves", W.A.S.P.- "Charlies chainsaw", Motley Crue, Korn, Ulver. I could go on forever..
Did you have any other bands or projects before Trail of Tears?
Yes, I played in Lucid Fear. I still do.
This might be a sensitive question, but why did you return to Trail of Tears after more than two and a half years of absence?
It is very sensitive and it's a reason for that. It was never my choice to leave Trail in the first place, I never wanted to leave. It was very hard for me at that time, because the band decided that they wanted to make more aggressive songs and they didn't think I could keep up with that. So I was kicked out over the phone without even been given a chance to participate in any discussion at all. I read in a website that we have all agreed that our styles went in a different direction. And it did hurt me, because I knew this was not the way things happened and I didn't have a single opportunity to tell my side of the story. I have been asked that question so many times after I rejoined Trail and in the beginning I was very insecure how to put it. I don't want to blame anyone and I don't feel any kind of bitterness towards the past members. But it's not possible to answer the question without going back to that time and tell the truth about what happened. After the band broke up, Ronny and I got in touch for the first time, after I was kicked out. He asked me if there was a possibility to work together in the future, but at that point it was not necessarily with Trail of Tears. We met and discussed what we wanted to do, and it came very clear for both me, and especially him, that we wanted to take Trail of Tears to a new level with a whole new line-up. So we started the search for the new members and I brought the guitarist (Bjorn) and drummer (Cato) from my band Lucid Fear. Cato played in Dimension F3H with Endre (bass) and brought him on board, and Ronny asked Pål (Guardiens of Time). After just a very few weeks, the band was complete once more, and after 3 - 4 month we went on the first US tour in the bands history. The reason why I rejoined is both because I am a musician in my heart and soul and the changing of the line up made it possible to do. I would never ever rejoined with the old line-up. So, I saw it as a opportunity to start where I left and to continue my vision with the band and my career, as well as Ronny's vision with Trail of Tears.
And what have you done in those years?
I still played in Lucid Fear and I also had some other projects. So I kept composing music, singing, writing and working.
"Bloodstained Endurance" is Trail of Tears latest album and will be released by Napalm Records. What was your part in the song writing of the album?

I made my own vocal lines and wrote my own lyrics. To make it short, everything I do on the record is my own work. Ronny and I also arrange our vocals and lyrics to fit each other. It have been a pleasure working with him and all went very smooth. It is a new situation for him, cause he has always been the one making the lyrics and decided how the vocal arrangement shall be. So I really appreciate him trusting my skills and giving me the space to release my energy, thoughts and feelings in the music.

"Bloodstained Endurance" is out now for a few months. How did the media and the fans react on the album?

The feedback has been amazing!!!! We have been given high scores all over as far as I know. Here is some of them: Kerrang 4/5, Metal Hammer 6/7, Rock Hard (Germany) 8/10, Aardschok 87/100, Orkus 9,5/10, Mindview 6/7. You'll find it all and a lot more in our homepage, so check it out!!!

And what are your favourite songs on the album?

It's changing now and then, but right know it is "Farewell to Sanity", "Bloodstained Endurance", "The Desperations Corridors" and "Take Aim, Reclaim, Prevail".

What are your highlights with Trail of Tears so far?

We had a great time during the US tour, even when we where freezing as hell in the north. That tour made us find the true band spirit together and the trust and friendship which is needed. It was the best tour I've ever done. The recording of "Bloodstained Endurance" was also a moment of excitement and fun. You see, 4 days before my recording, I couldn't even speak, eat or drink. My voice was totally gone and I had very high fever. This was in France, but luckily with help from the producer, we manage to get a doctor and he gave me anti-biotic right away. It turned out I had a strong inflammation in the throat. The highlight part in this story is that I actually got so much better, so fast that I could start the recording as planned and it went extremely well, I had so much fun.

And did you have any negative experiences with the band?

No, after the new start it has been truly incredible everything we've done together. The band has never worked this well and the spirit has never been this good.

As told before, "Bloodstained Endurance" is out now for some time and there will be a tour in October. What can we expect?

It will start 22 of November in Athens and we'll be touring with Gothminister and Magenta. It`s named Darkness, Bloodstained and Accidents European tour. We'll be performing tracks from "Bloodstained Endurance" and from previous records as well. You can expect a powerful show full of energy and quality performance!!! We also have a tour in The Netherlands with Epica in January. So once again…check out our homepage for dates!! Don't miss it!!!

And will you visit more countries than The Netherlands (twice), Norway and Belgium (At the Metal Female Voices Fest)?

Yes, we will visit Greece, United Kingdom, Germany, Denmark and some other countries which ain't official yet.

And the last question, is there anything the reader should know that I have not asked?

I think that was pretty much it. But I would like to use this moment to tell that I'm concerned about our environment and how it develops. It is important for me to encourage everyone, included myself to take responsibility in our way of living.

Links

MySpace * ReverbNation * Facebook * Twitter * Site