Independent Release
Review by Tony Cannella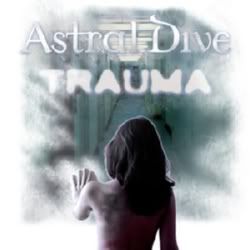 Yet another band from Italy. Astral Dive are 5-piece female fronted band that play a strong mix of symphonic and progressive metal. Their band line-up is currently: Chiara Manese (vocals), Damiano Pierucci (drums), Giovanni Vescovini (keyboards), Federico Agresti (bass) and Gianmarco Lotti (guitars). They have just released their EP "Trauma" and it is a strong out put that really sets a high standard for the up-and-coming Italian band.
The intro track
"EXP1"
kicks things off and has a futuristic, machine-like feel to it. It sets the table for the first track
"The Astral Dive"
. This song opens with a great riff that is rock solid and relentless. When the soprano vocals of
Chiara Manese
kicks in we are off and running. The vocals and the music absolutely soars to create a great big, energetic wall of sound. Things continue on the right path with the next song
"Gathering of Lost Thoughts"
. This song really gets moving right away. It starts off with a very up-tempo feel to it, and it is impossible to stay still while listening to it. This song features a few changes in the tempo, but the energy remains the same throughout and is a definite highlight.
Chiara
's vocals are really breathtaking on this one. The next song, I would describe as almost an epic ballad in feel. At 8-minutes long
"The Restless"
is the longest song, but it never fails to hold your attention. It starts of with some piano and the soft, beautiful vocals of
Chiara
come in. It pretty much remains a ballad throughout, but it has a dark, melancholic and pretty feel to it. It is a very good song and one that is difficult to describe. It must be heard. The final song
"Land of Unquestioned Answers"
is a perfect way to wrap things up on high note. The songs are very well written with equal care given to the music and lyrics. 
Overall I enjoyed this CD immensely. The songs are very good, the production is crisp and clean and the performances by the band members are first rate. The band shows a lot of promise and professionalism and are already well on their way to a stellar career.
"Trauma"
features 5-songs and 26-minutes worth of music that is of a very high caliber. The band are currently working on their first full length CD and I can't wait to hear what they come up with next.
Rating - 80/100
Tracklist
EXP1

The Astral Dive


Gathering of Lost Thought

The Restless

Land of Unquestioned Answers
Line Up
Chiara Manese – Vocals

Gianmarco Lotti – Guitars

Giovanni Vescovini - Keyboards

Federico Agresti – Bass

 

Damiano Pierucci – Drums